Roof Leak Repair Service in Albuquerque, NM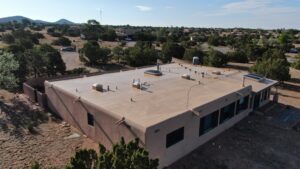 Professional Roof Leak Repairs
A roof leak in Albuquerque, NM can be one of the most frustrating experiences in life and given the hundreds of calls we receive after a big storm, it's sadly all too common. If you have a roof leak, we have crews standing by twenty-four hours a day, seven days a week, to make the water stop and get things back on track. We can service all different roof types. If you didn't buy your roof from us, no problem! We repair far more roofs that we didn't install than ones we did.
If you're the proactive sort and want to stop your next leak before water damages the interior of your building, please consider our roof maintenance plans.
Why You Can't Ignore a Leaking Roof
A roof leak is a serious issue that you can't ignore. If left unaddressed, a leaky roof can cause a range of problems to your home or building's interior.
Ignoring the problem will only make it worse over time and result in more costly repairs. Addressing a roof leak as soon as possible is important to avoid these negative consequences and protect your investment.
Here are a few reasons why you should not ignore a leaking roof:
Water Damage and Mold Growth
Ignoring a leaking roof can result in water damage because water can seep into the walls, ceilings, and insulation, causing rot and degradation over time. If the water is not properly dried and disinfected, mold can also grow and spread, creating an unhealthy environment.
Poor Air Quality and Higher Utility Bills
A leaky roof can also lead to poor air quality in your home or building. If water penetrates the insulation, it can cause the growth of mold and other allergens, reducing indoor air quality and leading to health problems.
Moreover, if water penetrates electrical systems, it can cause electrical issues, increasing your utility bills.
Potential Insurance Issues
Insurance companies may refuse to pay for water damage or mold growth claims if it is discovered that an ignored leak in the roof caused the damage. This means that the cost of repairs will fall on you, which can be expensive and financially devastating.
Decreased Property Value 
Neglecting a leaking roof can also decrease the value of your property. A damaged or mold-infested home is less attractive to potential buyers, which can reduce the value of your property and make it harder to sell in the future.
Signs of a Leaking Roof
What is your roof telling you? There are many reasons for a roof leak. Home and business owners should have their roofs inspected regularly by a professional roofing contractor to identify potential leaks and ensure the roof is in good condition.
Prompt repairs can also extend the roof's lifespan and protect the building's investment. Some signs of a leaking roof include:
Missing Shingles
Shingles serve as the first line of defense against water infiltration. If missing, water can penetrate the roofing material and seep into the building.
Some causes of missing shingles include:
Wind damage
Improper installation
Water Spots on Walls and Ceiling 
Water spots on walls and ceiling can be a clear indication of a leak in the roof. These spots may appear as dark stains, discoloration, or bubbling on the surface. Water spots can lead to further damage to the walls and ceiling.
Roof Rot
Roof rot occurs when water repeatedly infiltrates the roofing assembly and is not allowed to dry out. If not addressed, moisture can cause wood to rot which weakens the roof's structural integrity and can lead to further damage. In some cases where adequate ventilation is provided in the roof assembly, stopping the moisture intrusion will resolve the issue.  In extreme cases, replacement of the wood sheathing or joists is required along with the addition of proper ventilation to prevent future moisture build-up.
Damaged Flashing
Flashing is a metal component used to seal the seams between the roof and other building components, such as chimneys, skylights, and vents. If the flashing is damaged, water can penetrate the roofing material and cause a leak.
Roof Leak Repair Options
Once you have identified the source of the leak, there are several options for repairing it, depending on the extent of the damage:
Sealant: A roofing sealant can be applied to prevent water infiltration for small cracks or holes.
Patching: For larger holes or missing shingles, a patch can be applied to cover the damaged area and prevent water from entering.
Flashing repair: If the flashing is damaged, roofing experts can repair or replace it to prevent water from infiltrating the roof.
Roof replacement: If the damage to the roof is extensive, a full roof replacement may be necessary.
It's important to hire a professional roofing contractor like National Roofing for any roof leak repairs to ensure the job is done correctly.
National Roofing – Albuquerque's Roof Leak Repair Experts
National Roofing is a professional roofing company based in Albuquerque, New Mexico, that specializes in roof leak repair. Our highly trained and experienced professionals are available 24/7 to fix roof leaks quickly and efficiently.
Whether it's a small crack or a major leak, we are dedicated to providing quality roofing services to all our customers. Contact National Roofing today and get back to enjoying a dry and comfortable living space.
Our Customers Love Us
Positive:
 Professionalism,
 Punctuality,
 Responsiveness
Don Mac and Bobby came out and did a roof inspection for a client of mine. They were punctual, professional, knowledgeable, and friendly. Will definitely call National Roofing again!
Positive:
 Professionalism,
 Punctuality,
 Quality,
 Responsiveness,
 Value
From beginning to end these guys went above and beyond my expectations. Everything they did was perfect and I'm overly pleased at all the work. The group that came for the install was awesome. Great fun attitudes and they hustle. The Forman invited me onto the roof to ask questions and helped me fix some last minute issues. I seriously can not say enough about they guys and the business as a whole. I remember the horrible experience my mom would have with contractors and I was anxious indeed at first but man did they impress the hell out of me. I'm so happy with my pick in a roofing company. Thank you to all the guys who came and helped. I can sleep soundly tonight and for years and years to come. Thank you Bill, Ramon, Amilio, Felipe, Juan and Julio. You guys were awesome to work with. 
Positive:
 Professionalism,
 Punctuality,
 Quality,
 Responsiveness,
 Value
Bill Younts & Josh came by to do an inspection. They were professional & explained what needed to be done without any pressure to use their company. We decided to use them based on the reviews and integrity of the company, which is local. Jose and his crew did an excellent job!! They covered every thing up while scraping the roof and did a great job cleaning up when job was completed, which only took two days. I give them kudos for working in the on/off rain! Our neighbor, who just had his roof done, commented on the top quality job they did! We highly recommend National Roofing!!
Service:
 Roof repair for storm & wind damage
I live out of town but I used National Roofing to get my grandmother's roof repaired. Their service department is absolutely amazing and so helpful and understanding with having to go through all the logistics with me to make this an easy repair for my grandma. Everyone was professional and courteous. My grandmother wouldn't stop raving about them. I will definitely recommend them to all my family and friends in New Mexico!
Services: Roof repair, Gutter repairs
Diego and Raul did a phenomenal job. Professional and on point. Stayed as long as needed. Did more that what was asked. Barricaded everything in a commercial setting for safety.
Services: Gutter installation, Roof repair, Roof installation, Gutter repairs
Positive: Professionalism, Responsiveness We want to thank you and your team for all the hard work the past two days.  I cannot imagine a better group we'd like around our home.  Really, it was a pleasure having you and National on this project. Thanks for your team's professionalism and good nature.  It was great meeting everyone and having a chance to talk about other stuff. Looking forward to the next rain! Services: Gutter & Downspout
Positive: Professionalism, Quality, Responsiveness
I really appreciated the professionalism, detail, and time that went into both reviewing the job I needed done and giving me a quote. The crew that came by to fix the roof got to work right away and completed the repair in a timely manner. Great quality repair job and very professional. No issues. I will definitely be recommending National Roofing Co. to my friends and family!
Services: Roof repair, Roof inspection
Positive: Professionalism, Punctuality, Quality, Responsiveness, Value
This is the best roofing company! I tried calling another place first and they didn't even seem like they wanted to help, they told me I had to wait before they could come out. When I called National Roofing, the lady that answered was very nice and courteous and made me feel like she cared and that she was going to help me right away. I spoke to her and she had someone come out to look at the damage on my roof. They took care of me and gave me a reasonable price for the work done. Thank you so much! You guys are the best! I will be recommending my friends and coworkers to call you when they need you!
Services: Roof repair for storm & wind damage, Gutter repairs, Roof repair, Roof inspection