Residential Roof Gutter Installation in Albuquerque, NM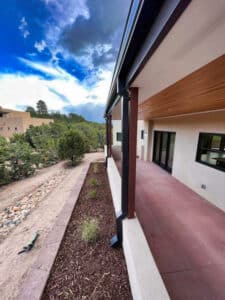 Do you currently have a gutter system on your home? Are you having leaks on your existing gutter system because it is not seamless? The seams on non-seamless gutter system tend to fail over time and start that pesky leak at every joint.
It may be time to upgrade your home's gutter system! Don't have a gutter? Is the wood or metal behind your gutter rotted or rusted?  Want to divert your water away from your home or into your garden beds? National Roofing residential roof gutter installation in Albuquerque, NM has got you covered!
We can install a fully functional gutter system, Fascia Board to help with rust or wood rotting behind your gutter and make your home look great with multiple different profiles to choose from! We will come by to determine what the best systems for your home may be. We bring a scientific approach to divert water away from your home to protect the foundation and to protect your investment! We also install splash boxes over your home's canales or install the increasingly popular rain chain!
Let National Roofing help you with improving the waterflow from your roof! Call National Roofing at 505-883-3000 to get an estimate today!
Our Residential Customers Love Us
I live out of town but I used National Roofing to get my grandmother's roof repaired. Their service department is absolutely amazing and so helpful and understanding with having to go through all the logistics with me to make this an easy repair for my grandma. Everyone was professional and courteous. My grandmother wouldn't stop raving about them. I will definitely recommend them to all my family and friends in New Mexico!
Services: Roof repair, Gutter repairs
Positive: Professionalism, Quality, Responsiveness
I really appreciated the professionalism, detail, and time that went into both reviewing the job I needed done and giving me a quote. The crew that came by to fix the roof got to work right away and completed the repair in a timely manner. Great quality repair job and very professional. No issues. I will definitely be recommending National Roofing Co. to my friends and family!
Services: Roof repair, Roof inspection
Positive: Professionalism, Punctuality, Quality, Responsiveness, Value
This is the best roofing company! I tried calling another place first and they didn't even seem like they wanted to help, they told me I had to wait before they could come out. When I called National Roofing, the lady that answered was very nice and courteous and made me feel like she cared and that she was going to help me right away. I spoke to her and she had someone come out to look at the damage on my roof. They took care of me and gave me a reasonable price for the work done. Thank you so much! You guys are the best! I will be recommending my friends and coworkers to call you when they need you!
Services: Roof repair for storm & wind damage, Gutter repairs, Roof repair, Roof inspection
Positive: Professionalism, Punctuality, Quality, Responsiveness, Value
We live in Corrales and, for many reasons, had wanted a durable, water- and critter-proof, fire-resistant membrane roof. Well, we have one now and are very glad that National Roofing did the installation. Our house has a multi-level roof, 20 canales, parapets and some curved walls. National laid the PVC membrane, wrapped it over the parapets, totally lined the canales and negotiated the curved walls (and vents and pipes). They did a wonderful job. We recommend them highly.
Service: Roof installation