Residential Re-roofing Services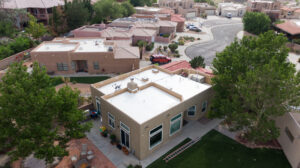 Eventually your roof is going to reach the end of its serviceable life and will need to be replaced. National Roofing is ready to install your new residential roof. It starts with a team coming out to do a full assessment of what's already there and confirm there is no serviceable life left in your existing roof. We will engage in some scientific tests, ask questions about the building and budget, and begin to develop a full scope of work and estimate. This process prevents future change orders, giving you cost certainty, and helps to create the right roof for your building and your needs. After that, the real work begins, and the existing roof will be decommissioned and replaced with a new roof utilizing the current best practices in the industry.
Our Residential Customers Love Us
Positive: Professionalism, Quality, Responsiveness
I really appreciated the professionalism, detail, and time that went into both reviewing the job I needed done and giving me a quote. The crew that came by to fix the roof got to work right away and completed the repair in a timely manner. Great quality repair job and very professional. No issues. I will definitely be recommending National Roofing Co. to my friends and family!
Services: Roof repair, Roof inspection
Positive: Professionalism, Punctuality, Quality, Responsiveness, Value
This is the best roofing company! I tried calling another place first and they didn't even seem like they wanted to help, they told me I had to wait before they could come out. When I called National Roofing, the lady that answered was very nice and courteous and made me feel like she cared and that she was going to help me right away. I spoke to her and she had someone come out to look at the damage on my roof. They took care of me and gave me a reasonable price for the work done. Thank you so much! You guys are the best! I will be recommending my friends and coworkers to call you when they need you!
Services: Roof repair for storm & wind damage, Gutter repairs, Roof repair, Roof inspection
Positive: Professionalism, Punctuality, Quality, Responsiveness, Value
We live in Corrales and, for many reasons, had wanted a durable, water- and critter-proof, fire-resistant membrane roof. Well, we have one now and are very glad that National Roofing did the installation. Our house has a multi-level roof, 20 canales, parapets and some curved walls. National laid the PVC membrane, wrapped it over the parapets, totally lined the canales and negotiated the curved walls (and vents and pipes). They did a wonderful job. We recommend them highly.
Service: Roof installation