Commercial Roof Replacement Services in Albuquerque, NM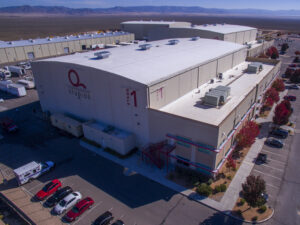 Commercial Roofing Replacement  
A commercial roof is a significant investment, which is why keeping it in good condition is crucial. Yet, even with the appropriate maintenance, a roof will eventually be damaged by the elements, such as wind, snow, sun, and rain, and require re-roofing.
National Roofing's commercial roof inspection and replacement services let you protect your building from the elements and replace the roof without damaging your commercial building. This post looks at commercial re-roofing, how it differs from residential re-roofing, and how to determine whether you need one.
What Is Re-Roofing?
Re-roofing is the process of installing a new roof on a building. It involves placing a new roofing system on top of the existing one or if there are already 2 roofs, tearing off both of those roofs to the deck and replacing the roof. This is usually done when the existing roof is in poor condition and needs replacement.
What's the Difference Between Residential and Commercial Re-Roofing? 
The major differences between residential and commercial roofs include installation requirements, materials, and roof design.
Commercial re-roofing may require specialized equipment and a skilled technician to complete the project successfully. The installation process can also take longer than residential re-roofing because of the size of the roofs.
How Do I Know When My Commercial Roof Needs to Be Restored?
Commercial roof restoration is critical in protecting your business from potential damage and loss. Here are a few ways to figure out if your roof needs restoration.
Roof age
Most commercial roofs have a lifespan of around 20-25 years, depending on the type of roof and the quality of the materials used. If your roof is approaching this age or is already beyond it, it may be time to consider restoration.
Bubbling or blistering 
A bubble occurs when your roof leaks and wind or moisture enters beneath the roof membrane. If your roof is exhibiting signs of bubbling or blistering, the roofing material has become compromised and is at risk of failing prematurely.
Splitting
When a roof starts to split or crack in multiple places, it's a sign of wear and tear and could lead to further damage if not addressed. Ignoring these issues could lead to further damage and potentially compromise the integrity of your roof.
In order to prevent these problems from occurring, it is important to have your commercial roof restored as soon as possible.
Comprehensive Range of Commercial Re-Roofing Services
At National Roofing, we offer various commercial re-roofing services in Albuquerque, NM to suit your specific needs and requirements. Some of our services include:
Restaurant re-roofing 
If you own or operate a restaurant, you know that a high-quality roof is essential to protecting your business. A damaged roof can lead to costly repairs, and in severe cases, it can even force you to close your doors temporarily.
Shopping malls, and grocery, retail stores re-roofing 
A re-roofing project for a shopping mall or grocery store is just as important as a restaurant. That is because a leaky roof can cause an entire building to collapse.
Office buildings re-roofing
A leaky or damaged roof can cause a building to lose energy and humidity, which can have devastating consequences for the occupants and the equipment inside.
Hotel & lodging facilities re-roofing 
You want guests at your hotel and lodging facilities to have the best possible experience. However, a leaky or damaged roof can easily ruin that. Professional re-roofing services ensure your guests are comfortable, dry, and safe.
Institutional building re-roofing 
Institutions like schools, hospitals, and libraries face various challenges when it comes to maintenance. A damaged roof can cause all sorts of problems, from rot and corrosion to structural failure.
Factory & warehouse re-roofing
A leaky roof can have a serious impact on the efficiency of a factory or warehouse. Not only does it prevent workers from getting their jobs done, but it can also lead to costly repairs and lost production time.
National Roofing – Albuquerque's Commercial Re-Roofing Experts
From simple repairs, such as replacing damaged single-ply coverings, to complete re-roofing projects, including installing new commercial roofing systems, we can help you get the most out of your commercial property.
We understand that each commercial roof is unique and requires a tailored approach. Our team of experienced roofers will take the time to assess your current roofing system and provide a full range of recommendations for improving its performance.
If you are a resident in the Albuquerque, NM, Metro area, feel free to contact us regarding your commercial re-roofing needs.
Our Commercial Customers Love Us
Diego and Raul did a phenomenal job. Professional and on point. Stayed as long as needed. Did more that what was asked. Barricaded everything in a commercial setting for safety.
Services: Gutter installation, Roof repair, Roof installation, Gutter repairs