The monsoon season can be a beautiful time of year, but it can also wreak havoc on your roof. The heavy rains, wind, and lightning that come with this season can cause significant damage to your home if the roof is not in good shape. Therefore, it is important to do regular roof maintenance before and during the season to avoid costly repairs down the line.
National Roofing is a premier roofing service provider with over 45 years of experience in the industry. We help you prevent roof damage from rain and wind. In this post, we'll share some tips on how to care for your roof and protect it from monsoon damage.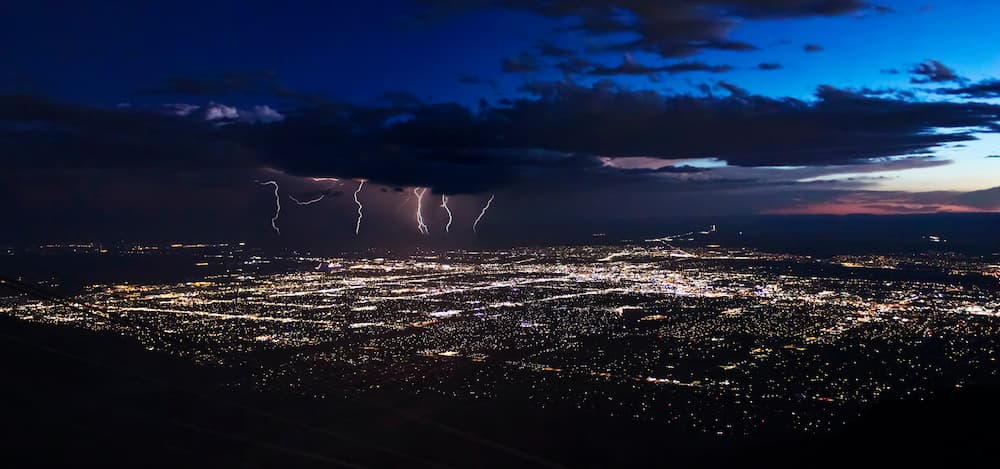 Tip 1: Clean the Gutters and Scupper Openings
Scuppers (often called canales) and gutters protect your roof from rain during a storm by channeling rainwater off the roof and on to the ground. Drain openings can be obstructed by overhanging tree branches dropping branches and leaves, or by trash blown on to the roof by high winds. When drains get blocked, additional water accumulates on the roof or in the gutter, which adds weight and gives the moisture more time to get in through any imperfections in the building. In extreme cases, the added weight of snow, ice or rain could cause the gutter to fall off, or overload the roof structure resulting in cracks at ceilings or even more significant structural damage. Ensuring all drains are free and clear all year round is crucial to the good performance of any roof, and is especially important during the monsoon season when heavy rains are more likely.
Tip 2: Look for Roof Leaks after Storms
Strong winds accompanying heavy rainfall can sometimes cause water to be driven into areas that are protected from normal rainfall, such as ductwork and roof vents. Wind driven rain can also get into any roof imperfections located at the high sides where water does not usually collect. If moisture consistently gets in the roof assembly, it can result in mold growth and weakened structural members. If enough moisture gets during one rain event, it can cause visible ceiling and wall damage. If you see any obvious signs of a leaking roof or detect a musty smell in any room, you should get a professional to inspect your roof to help you determine the cause of the damage and get it fixed as soon as possible.
Tip 3: Schedule a Roof Walk after Monsoon Season
Monsoon season can be particularly harsh on roofs, and damage may not be visible from the ground. Detecting and addressing issues early on can save you from costly repairs down the line and help extend the life of your roof. This is why it's crucial to have a professional inspect your roof; preferably before and after the monsoon season. The professional will walk the roof to check for signs of wear and tear, leaks, workmanship-related problems or other issues that may make your roof vulnerable to, or that have arisen because of the monsoon season.
After identifying the problem, the roofing company can recommend necessary repairs or maintenance to ensure your roof stays in top shape. Recommendations may include a more frequent maintenance plan, applying an appropriate roof coating system, re-covering the roof system with a second roof assembly, or tearing off the roof and installing a new code-approved system meeting your aesthetic requirements and budget constraints.
Choose National Roofing for Your Albuquerque, NM Home
Are you a homeowner in Albuquerque, NM, and need roofing services? You can trust National Roofing to help you out. We have over 45 years of experience and a track record of delivering top-quality workmanship and exceptional customer service.
Our skilled professionals are equipped to handle any monsoon roofing tasks, from minor repairs to full replacements, with precision and efficiency. Contact us today and trust us to keep your home and family safe all year.