A roof is the first line of defense for protecting the residents of a building from the effects of snow, sun, sleet, hail and rain. Whether building or buying a house, owners expect their roof to last a long time, but many roofs wear out before their expected lifespan. If you are searching for a suitable roof for your building, this post will help discuss life expectancy of different roof types and help you make an informed decision about roofing options.
At National Roofing, we understand the significance of having a long-lasting roof. Our roofing service providers are experts in determining the best roofing solution for homeowners based on their unique needs.
Factors that Impact the Average Lifespan of Your Roof
Your roof's lifespan can vary depending on the following factors:
Quality of installation
Probably the greatest factor in how a roof will perform and how long it will last is the quality of the installation; roofs that are not installed per the building code and the roofing manufacturer's specifications are more prone to leaks and premature wear and tear, often resulting in damage to the building and its contents.
Maintenance
Maintaining your roof regularly can help your roof reach its intended lifespan. Just like servicing your car will help it stay on the road longer.
Materials
Some roofing materials are just more durable than others; a 1/2" thick roof tile will outlast a single ply roof membrane whose total thickness is only about 1/16".
Roof slope
A steeper slope allows for better drainage and less debris buildup, which can increase a roof's life expectancy.
Ventilation
For roofing over concealed spaces or attics, proper ventilation can help prevent moisture buildup and reduce stress on the roofing materials from temperature swings.
Roof Traffic
Limiting foot traffic on your roof can help protect it from accelerated wear and tear. If you have mechanical units on your roof that require regular maintenance, consider installing a protective pad or coating around the service sides of the unit(s).
Material color
Darker colored roof materials absorb more heat at the surface and can quickly bring unwanted heat into the building if there is not adequate insulation in the roof assembly. Changing an existing roof covering from a dark material to a light-colored material can reduce heat gain at the surface, but may also change the dew point location (where water vapor in the roof assembly condenses and becomes liquid) and create new problems for your roof.
Roof Life Expectancy Based on Types of Roofs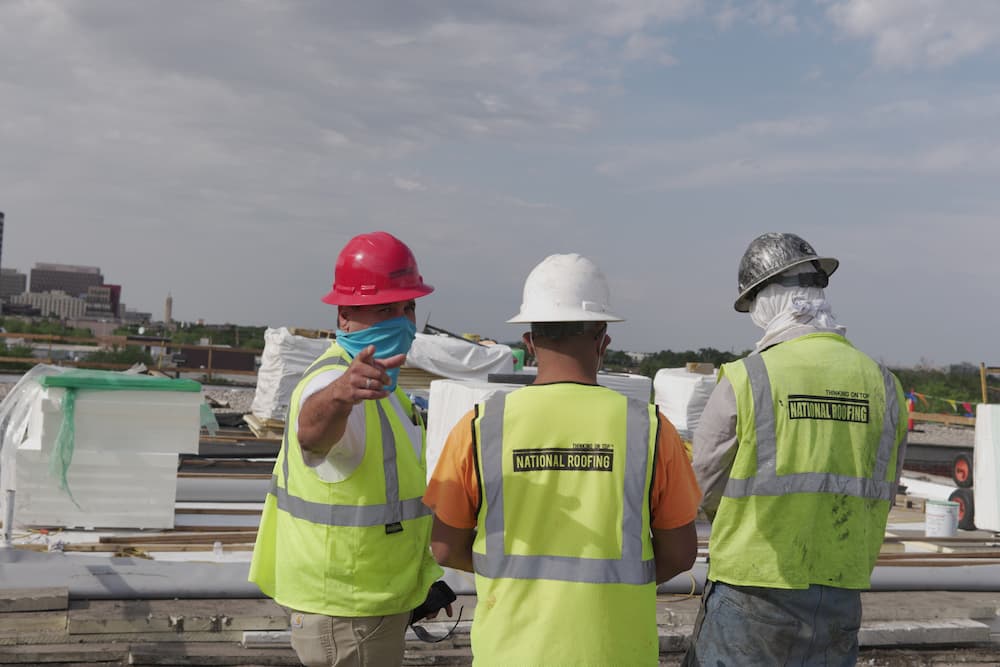 The average lifespan of today's roofs is typically around 15 to 25 years. Below are four common types of roofs and their anticipated life spans.
Metal roofs
The cost and longevity of a metal roof varies depending on its thickness, panel profile and type of fastening system. If you choose a thinner metal with exposed fasteners (attached with screws through the face of the metal), your roof may last around 15 to 20 years. If you opt for a thicker, high-quality material with concealed fasteners (attached by clips that hold the panels in place within the panel ribs) your roof can last up to 50 years.
Built-Up roofs
Built-Up Roof (BUR) systems are field-assembled using alternate layers of roofing felt and asphalt. They can be built up using heat or with cold-applied adhesives. The two most common types of BUR's have either a granulated cap sheet or a gravel surfacing as the final protective layer. Depending on the number of layers used and the quality of the installation, Built-up roofs should last between 15 and 30 years.
Shingle roofs
Roofing shingles come in bundles and are available in many different shapes, sizes and colors. Here is a breakdown of some common shingle types and their average lifespan:
15–20 years for 3-tab asphalt shingles
20 – 30 years for Architectural shingles
30–50 years for luxury (laminated) shingles
Single Ply membrane roofs (TPO, PVC, EPDM)
Single Ply membrane roofs typically last between 20–30 years, depending on the material thickness and the components in the roof assembly. 80 mil membranes installed over a high-quality cover board will outlast a 60 mil membrane placed directly over rigid insulation.
How Often Should I Replace My Roof?
Depending on your roof type, if installed properly it should last anywhere between 15 and 50 years. It is recommended that property owners regularly maintain their roof and get annual assessments on its condition and life expectancy; this will help with budgeting for an eventual roof re-cover or roof replacement.
Schedule a Roof Walk Inspection with National Roofing
To enjoy a cozy and leak-free home for many years, your roof needs regular inspection from an expert roofer. Detecting and addressing issues early on can save you from costly repairs down the line and help extend the life of your roof. The professional will walk the roof to check for signs of wear and tear, leaks, workmanship-related problems or other issues that may make your roof vulnerable.
National Roofing provides a thorough roof inspection to identify potential issues and develops an effective plan to prevent them from turning into costly repairs or replacements. Contact us today to schedule a roof walk inspection.